Why TimesSelect is the Right Thing for the Times to Do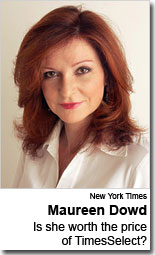 Mark Glaser writes in his PBS column, MediaShift, that the New York Times should put an end to TimesSelect, the paid-content option of its online edition that keeps op-ed columnists and the archives behind a subscription wall.
Glaser addresses Times Publisher Arthur Sulzberger and reminds him he said TimesSelect was a "bet" and that it's time to call it in (emphasis added):
"That bet goes against the movement in the online world toward open conversations and open discussion of the important topics of our times. The business minds at NYTimes.com went strongly against conventional wisdom with the idea of closed thought available only to those with the money to pay for a print or online subscription."
How wrong-headed this is.
The Times is doing exactly the right thing - attempting to make money off of its online operation. The very fact - as Glaser points out - that "online ad revenues were up 25%" at the Times New Media Group and that web advertising for newspapers is growing at more than 30 percent a quarter means newspapers must make more and more "bets" on extracting revenue from the web if they are going to pay the salaries of the real-world journalists who are writing for both digital and print readers. Certainly, print advertising, which grew only 0.3 percent last quarter, can no longer pay the bills.
The hatchet-wielding in newsrooms last year and the dismantling of Knight Ridder should send a shudder of urgency through Glaser and all others who care about the future of journalism. The print business model cannot sustain journalism as we know it, so we must find new ways to pay for it.
Charging for full access to the newspaper, like the Wall Street Journal does, is one option. Selling subscriptions to pure online journalism products like Salon or TheStreet.com is another. Putting a price on the head of your most popular columnists, like the Time does, is yet another.
In a time of generic, ubiquitous news and RSS readers glutted with opiners, the Times and Journal are selling the one thing that is always worth something when the price of all else falls to zero: Value. As Glaser quotes Sulzberger:
TimesSelect is "a bet on the value of judgment, the value of insight, the value of experience."
Judgment. Insight. Experience. Valuable commodities in journalism or any field. Why shouldn't the Times, the Journal or any other newspaper charge for them if they can? Even Glaser's employer, PBS, puts a price - a hefty price - on its programming. The Shop PBS web page is loaded with DVD's of past programs selling for 20, 30 or 40 dollars, little less than the cost of a year's subscription to all the Times' columnists and its archives.
So far, TimesSelect has 482,000 subscribers -- 38 percent of them (183,160) online only. The rough math on that is $9.1 million in revenue. The Journal, and its weekly cousin Barron's, have 820,000 subscribers, an increase of 12 percent over the previous year. PaidContent.org quoted a Dow Jones executive commenting on the numbers:
"We are, as we said before, very focused on efficiently monetizing the traffic that we have."
Don't get me wrong. There is no point in charging for generic news. There is no point in charging for classifieds in some markets. There is almost no point in charging for the paper itself (as we are seeing with start-up papers like the Examiners in San Francisco, Washington and Baltimore). But content that is unique - either because of its "judgment, insight and experience," or because of its quality or creativity or expertise is worth something. As working journalists - note the emphasis on "work" -- we should ask those who want our product to pay for it.
Glaser is right that "movement in the online world (is) toward open conversations and open discussion." Community is free. Conversation is free. The unprecedented connective power of the Internet is free (except, of course, for your monthly ISP bill). For that matter, anyone can read Maureen Dowd or David Brooks for free on the Internet because their columns are reposted in numerous blogs. Here's Dowd. Here's Brooks. No TimesSelect required.
Journalism - and that includes good opinion journalism - is not free, though. A reporter on any newspaper, from the New York Times to the Vacaville Reporter, in print or online, deserves to be paid. I want to be paid. Glaser wants to be paid. And for any of that to happen we have to ask those people who think we have value to foot the bill.
ADD-ON:
Mark Glaser and Mathew Ingram point out in the comments that I inflate the revenue number from TimesSelect> Mark adds that TimesSelect is counter to the "Internet's current open movement" and Mathew suggests the Times is risking losing the "long-term value of having those columnists be part of the online conversation and argue that openness of information."
Here is my response:
Mark, Mathew ... No doubt you're right on the amount of revenue the Times is generating off of TimesSelect. I didn't take into account discounting when the did back of envelope math. It's likely, though, as Mathew says, that even at the lesser rate, TimesSelect is a profitable venture.
The real point, of course, as you both mention, is whether installing a tollgate in front of the Times' most popular content is the best strategy for it -- or presumably any other newspaper trying to survive in a digital age.
First, we need to separate the Times (and the Wall Street Journal) from the realm of "other papers." Beyond USA Today, there are no newspapers of comparable reach or unique reputation (for better or worse) in the United States. The Times, and its columnists, have a singular, national value that may allow it to traverse business obstacles that would stymie other papers. Mark, I take your citation of the Boston Herald's retreat from paid readership as evidence of that. The columnists from the two papers simply don't have the same "value" to audience.
Next, I believe those columnists are still part of the national conversation to which Mathew refers. It is why, as Stephen Baker of the Business Week's Blogspotting points out, their names routinely top the Technorati search queries.
Finally, as much as I and others enjoy the informational and connective benefits of the "Internet's current open movement" cited by Mark, I don't believe openness negates the costs of production or necessarily devalues products or activities upon which some people bestow value. In other words, if some people are willing to pay and others aren't, then that's a business decision. In fact, I see TimesSelect as a part of an increasing model of tiered of Internet and media use -- a free baseline for all topped by a narrowing, pricier pyramid of options for those who want them.
Here are some personal examples of what I mean:
I joined Flickr for free, but I wanted more storage space so I paid an annual fee.
I can search the S.F. Chronicle's archives for free, but if I want to research several Bay Area newspapers at once (including those that charge for archive retrieval) I pay Lexis-Nexis a fee.
I listen to music on my laptop for free, but I pay Apple to download an I-Tune.
I can read my old newspaper, the San Francisco Examiner, for free, but if I want some good journalism delivered to my house I pay the Chronicle and the Times a fee.
What we do agree on is this: The future of newspaper-based journalism is mighty uncertain. What we disagree on is whether TimesSelect is a useful experiment to find out what might work. I think it is.
Tags: Journalism, Newspapers, , TimesSelect
Posted by Tim Porter at June 8, 2006 10:45 AM