Now for Something Different on A-1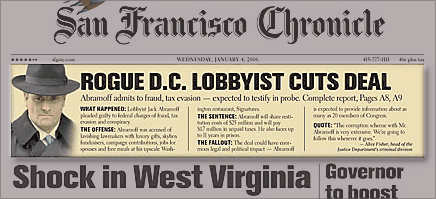 The guilty plea of Washington lobbyist Jack Abramoff was old news for morning papers, especially here on the West Coast, but it was still a big story. How to entice Page 1 readers with day-old news is an ongoing challenge for newspapers and a hurdle that must be cleared if they are to fashion a new, relevant role in a world of instant headlines.
The San Francisco Chronicle tried this approach: A magazine-style box filled with Abramoff's fedora-topped mug and just the facts - What Happened, The Offense, The Sentence, The Fallout, Quote. Inside, more than a page of text awaited readers who wanted more. Very Law and Order.
I like it. I would have added another category - What it Means - and invited readers to participate online, but it's a good effort and a sign that the sacrosanct rules of how newspapers That Aren't The Times should play Page 1 news are finally changing.
Tags: Journalism, Newspapers, Media
Posted by Tim Porter at January 4, 2006 04:51 PM