Extra! Extra!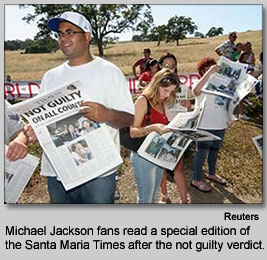 When do newspapers still have the edge on breaking news? When you're standing in a field without a TV set or a web connection - at least if that field is located in the middle of Central California near Michael Jackson's so-called ranch.
Most people who cared, and many more who didn't, heard about the not guilty verdict in the Jackson molestation case from TV (such as these folks in Times Square) or the web (from pages like these on Yahoo). A few, though, bought special editions of the Santa Maria Times, which put a $1.00 commemorative edition of the paper post-verdict and also welcomed in an editorial the end of the local community's 15 minutes of fame.
What struck me about the this picture is how anachronistic it is. The image of people absorbed in freshly-printed, breaking news is belongs to an era that has long since passed. It is reminiscent of photos like this one from the end of World War II or of this front page reporting on D-Day.
This image taken the other day in Times Square is more typical of today's world - media that changes moment by moment, memorable for seconds as it passes through our lives or we pass it its.
I'm glad the Santa Maria Times put out an Extra!. It is as much an artifact as Jackson himself.
Posted by Tim Porter at June 16, 2005 07:36 AM