Apologize? For What?
Kenneth Chandler, editorial director of the Boston Herald, has apologized for publishing a photograph of the young woman shot to death by police during a street disturbance following the Red Sox's victory over the Yankees.
That was a mistake.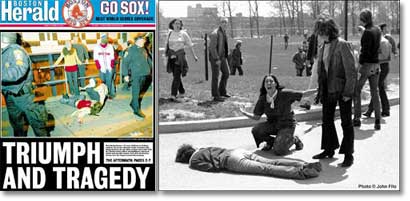 The photograph -- published on the tabloid's cover -- "angered and upset many in our community," said Chandler, referring to the outpouring of negative email the paper received, which expressed shock, revulsion and disgust (to sample from a few of the emails) at the paper's decision to print the photograph so prominently.
Bostonians should be upset, but their anger is misdirected. It was a Boston police officer who indiscriminately (apparently) fired a pepper spray pellet into a crowd of misbehaving fans, killing 22-year-old Victoria Snelgrove, an innocent bystander.
The ire of the citizenry should be aimed at the police officer who fired the gun and at a law enforcement agency that clearly was not prepared for a post-game celebration despite what news reports say was a pattern of increasing post-game drinky and rowdiness. The crowd got unruly, a cop lost control and a young woman died.
It seems heartless, I know, to say it is Herald's job, as well as that of all newspapers, to bring the community the truth in the most unvarnished version possible. When I read (in an earlier version of this story) about how Snelgrove's father met reporters outside his home with a photograph of his slain child and said, "I want you to meet my daughter," I nearly cried. What a terrible thing to have happen; what a human response by the father in front of a clamoring gaggle of reporters.
Victoria Snelgrove's death is outrageous, as are the killings of all the young men and women who die in the wanton inner city violence, as are the continuing toll of the innocents in Iraq and the unabated genocide in Darfur. Hiding from violence doesn't prevent it. Ignoring it doesn't reverse its impact. Not reporting doesn't help communities confront it.
I may be in the minority on this one -- and I don't particularly enjoy defending the Boston Herald, -- but I don't see a substantive difference between the photograph of Victoria Snelgrove lying dead on a Boston sidewalk and the one taken in 1970 by John Filo of Mary Vecchio tearfully kneeling over the body of Jeffrey Miller lying dead on the Kent State campus.
Would critics of the Herald's front page today have published the photo of Vecchio and Miller? Yes, the issues are different, but how does that diminish the death of one or the other?
Both are tragic. Both represent deaths of an innocent at the hands of authorities. Both are news. And both belong in the newspaper -- without an apology.
Posted by Tim Porter at October 22, 2004 01:04 PM