Journalists Caught in Haiti's Violence
Good journalism matters. And it matters enough to good journalists that sometimes they die doing it.
Gunmen in Haiti yesterday killed Spanish television photographer Ricardo Ortega and shot South Florida Sun-Sentinel photographer Michael Laughlin. Both were covering a march.
Here's the Sun Sentinel's story on the march and the shootings.
Click below to see a series of photographs of Laughlin before and after he was shot.
UPDATE, Tuesday: Sun-Sentinel interview with Laughlin: "I feel lucky, very lucky."
Photographer caught in a cross fire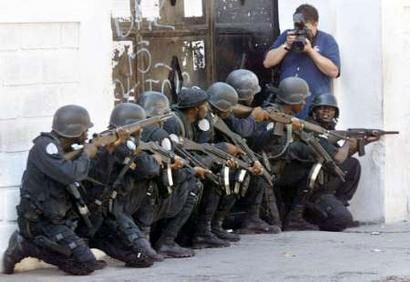 South Florida Sun-Sentinel photographer Michael Laughlin, stands behind Haitian SWAT police just he was hit by a bullet from unknown gunmen in Port-au-Prince, Haiti, March 7, 2004. Suspected supporters of exiled Haitian President Jean-Bertrand Aristide sprayed gunfire into a crowd of thousands of jubilant revelers outside the National Palace on Sunday, killing at least six people, including a Spanish journalist, and wounding 18. The wounded included two Haiti police officers and American journalist Michael Laughlin of the South Florida Sun-Sentinel newspaper, who was shot in face and shoulder. Hospital officials said the dead included Spaniard Ricardo Ortega, a correspondent for the Antena 3 Spanish television station. REUTERS/Daniel Morel
---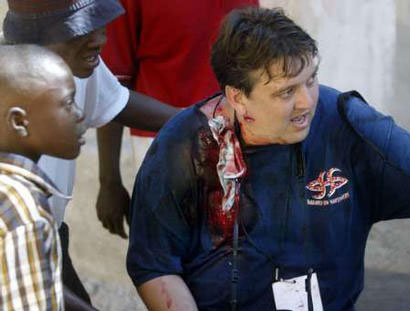 U.S. photographer Michael Laughlin of the South Florida Sun-Sentinel (R) takes cover in a courtyard after being hit by a bullet from unknown gunmen, who opened fire into a crowd during a demonstration, in Port-au-Prince, March 7, 2004. Suspected supporters of exiled Haitian President Jean-Bertrand Aristide sprayed gunfire into a crowd of thousands of jubilant revelers outside the National Palace on Sunday, killing at least six people, including a Spanish journalist, and wounding 18. Laughlin was shot in face and shoulder. REUTERS/Daniel Morel
---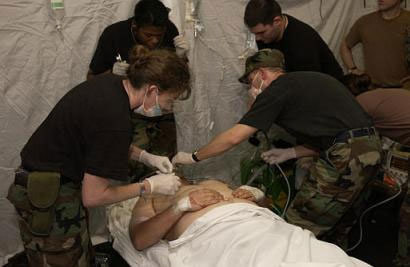 Members of the 43rd Aeromedical Evacuation Squadron from Pope Air Force Base, N.C., stabilize the condition of a civilian reporter with a neck wound at Port-Au-Prince, Haiti on Sunday, Mar. 7th, 2004. The reporter was wounded when violence erupted at a protest where thousands of Haitians were celebrating the flight of ousted President Jean-Bertrand Aristide. (AP Photo/Sgt.Andy Dunaway, U.S. Air Force)
---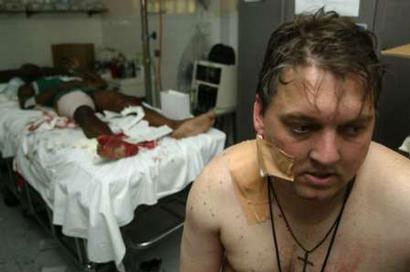 U.S. photojournalist Michael Laughlin of the South Florida Sun Sentinel newspaper sits after being treated for a gunshot wound to the face and shoulder, after he was shot by unknown assailants at a demonstration by groups opposed to former Haitian President Jean-Bertrand Aristide, in Port-au-Prince, March 7, 2004. Thousands of Haitians shouted 'we want justice' and celebrated the ouster of ex-President Aristide on Sunday under the watchful eyes of local police and battle-ready foreign troops. REUTERS/Eliana Aponte
Posted by Tim Porter at March 8, 2004 03:07 PM